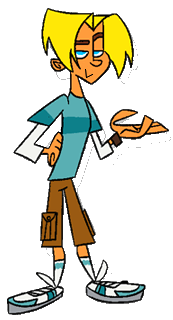 Gil Nexdor (voiced by Andrew Francis) was a fourteen year old boy who was the counterpart of Susan and the best friend of Johnny.
Appearance
Edit
Gil was seen wearing a greenish blue shirt over a light gray shirt, brown shorts, light gray socks, and light gray and greenish blue shoes. He has yellow hair and he has bright blue eyes.
Counterparts
Edit
Beast Boy or Robin (Teen Titans Go).
Prince Eric (The Little Mermaid).
Aladdin (Aladdin).
Olaf or Kristoff (Frozen).
Elroy Jetson (The Jetsons).
Knuckles or Sonic (Sonic the Hedgehog).
Yogi Bear (Yogi Bear).
Ad blocker interference detected!
Wikia is a free-to-use site that makes money from advertising. We have a modified experience for viewers using ad blockers

Wikia is not accessible if you've made further modifications. Remove the custom ad blocker rule(s) and the page will load as expected.