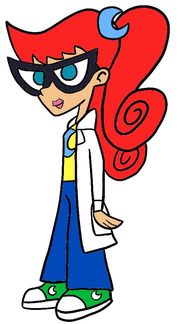 Marydike Test (voiced by June Foray) was Johnny's sister, Susan's best friend, and Hugh and Lila's daughter.
Appearance
Edit
Mary was seen wearing a light gray jacket, a yellow shirt, glasses, a light blue moon shaped barrette, navy blue pants, and green hi top shoes. She has red hair she has greenish blue eyes.
Counterparts
Edit
Babs Bunny (Tiny Toon Adventures).
Dot Warner (Animaniacs).
Gosalyn (Darkwing Duck).
Anne Marie (All Dogs Go To Heaven).
Jenny Foxworth (Oliver And Company).
Penny (Kingdom Hearts).
Daisy Duck (Mickey Mouse).
Robyn Starling (JT The Movie).
Shanti (The Jungle Book).
Ad blocker interference detected!
Wikia is a free-to-use site that makes money from advertising. We have a modified experience for viewers using ad blockers

Wikia is not accessible if you've made further modifications. Remove the custom ad blocker rule(s) and the page will load as expected.